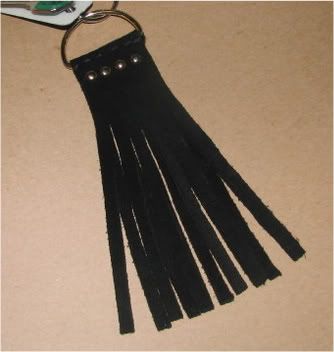 I forgot to post this diy project i did as x-mas gifts for my closest girlfriends. It turned out looking pretty good and makes it a whole lot easier to find my keys in the bottomless pit i call my purse.
materials:
* square of leather or suede
* D-ring or keyring
* bedazzle studs
* exacto knife
* scissors
* strong needle & thread (color to match suede)
* straight edge
i use the scissors and exacto interchangeably. measure how wide you want your leather to be and cut the length. put the leather through the ring so that each end of the leather meet evenly. sew as close to the ring as possible to secure. bedazzle the studs or use an exacto knife to cut holes and then push them through. Using a straight edge and exacto knife (or scissors) cut the leather into strips. thats it!